DOROTHY DOUQUET - SOLO EXHIBIT
Dorothy Douquet is the second of the new era to have a One-Person Show in Cribari Conference Room.
Her solo exhibit will be on display from July 29 until the Annual Members Juried Show date is set.
Solo Exhibits since 2018
Dot Armbruster
Jerry Gililland
Kathy Bodamer
Sunni Gibbons
Two Person Exhibits
Wendy Fitzgerald and Michael Sunzeri
Jane Hink and Collen Mirassou
re: Barbara Gottesman, Exhibits Chair
LOOK FOR our upcoming Annual Members Juried Show on October 21, 2022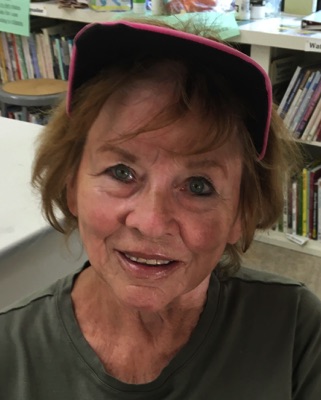 Dorothy Douquet – Solo Art Exhibit
You may have encountered Dorothy Douquet on the golf course, the bocce court or the pickleball court. But did you know that she is just as excellent in painting as she is in golf, bocce and pickleball? Visit her one-person art exhibit in Cribari Conference Room to view her exhibit. Her exhibit will be on display until October 21, when Arts & Crafts hangs its Annual Members Juried Art Show.
Dorothy grew up near Chicago and attended the prestigious Chicago Institute of Art.
She graduated from Stevens College in Missouri with a degree in art. She knew that most people could not make a living creating art. She married and created three wonderful children, but after a divorce knew that she would have to make a living on her own. Like many women in the days before alimony and child care payments, Dorothy worked at many careers: interior decorating, human resources and mortgage lending.
She never had time for art, but she kept up her interest and dabbled where she could.
When she retired and moved to The Villagers, sportswoman Dorothy found time to do more art. Her 3 D sense of sculpture has stimulated her work in ceramics. Her double horse head sculpture is on display in Building A, and her owl sits on a shelf as part of the Arts and Crafts permanent exhibit in the Art Room. She has been a member of Arts & Crafts for 16 years. She has sold her paintings at Art in the Park and Holiday Faire. She also volunteered to host last year's pre-holiday Gift Wrapping Party to help Villagers with gift wrapping large or unusual packages. She is a current member of the Poetry in Art group and teaches classes in beginning acrylics.
Dorothy's acrylic paintings will be on display for all Villagers to enjoy until October 21. When you visit the Conference Room for a meeting or any gathering, be sure to take time to enjoy Dorothy's wide variety of subject matter.
by Barbara Gottesman