Acrylic Painting from the Very Beginning
Thursdays, August 11 - September 15, 2022
10 am - 12:30 pm in person in the Art Room.
$75. 6 weeks class.
Register at barb.gottesman@gmail.com
All materials furnished.
Checks, made out to Dorothy, and Proof of Vaccine are due to Barb one week before class begins, August 4.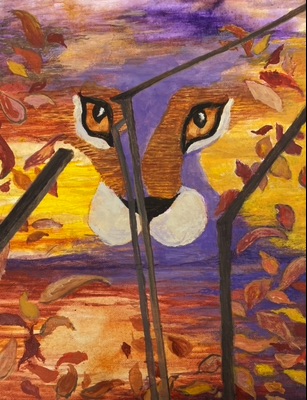 ACRYLICS FROM THE VERY BEGINNING
Dorothy Douquet is offering another Beginning Acrylics Class to Villagers on Thursdays, August 11 – September 15. This six weeks class is your opportunity to try an easy art form without risk because all materials are furnished by Dorothy. Many people find acrylics the easiest of all art media because it dries quickly, and you can paint over your mistakes!
Dorothy demonstrates realistic acrylic techniques and provides individual attention to all participants.
The time is Thursdays, 10 am – 12:30 pm in the Cribari Center Art Room. The fee is $75, with all materials furnished.
Register at barb.gottesman@gmail.com as soon as possible because Dorothy's classes fill up rapidly. Deadline for checks and proof of vaccine is one week before class begins. You can view "Tyger" and other examples of Dorothy's own acrylic painting on our website at www.villagesartsandcrafts.org
Take the plunge and learn a new skill with Dorothy as she helps you explore acrylics from the very beginning!