The Villages Arts & Crafts Association
MISSION
The Villages Arts & Crafts Association was founded 48 years ago to provide a creative outlet to artists and crafters who live in The Villages, an active senior community, in the beautiful hills of east San Jose. Our vision is that within a decade The Villages would feature the amenities of an arts and crafts colony as an enticement (in addition to golf and tennis) for seniors to make The Villages their home.
If you want any information about Arts & Crafts, please contact 2017 President Monita Bowman at 408-440-8591 or monita.bowman@gmail.com We always need volunteers to serve as committee members with small jobs, so call Monita if you are willing to help our art club in any way.
We provide classes, workshops, excursions, quarterly exhibits in Cribari Center, and annual events such as Art in the Park, Sidewalk Arts & Crafts Sale, Open Studios, and Holiday Faire. Membership is open to all Villagers, artists and supporters, with annual dues of $10 per year.
A monthly general meeting and guest artist demonstration is held on the first Monday of each month in Cribari Conference Room at 1:45 pm. No demos are held in January, July, August, September or December.
To register for an art class advertised in The Villager or by flyer on Cribari bulletin boards, call or e mail Barbara (who is the 2017 Class and Workshop Scheduler) at 531-9402 or barb.gottesman@gmail.com by the deadline indicated. Contact her if you want additional information or go to the instructor's page on our website.
Notice: The Boutique is closed now until the renovations in Cribari Center are completed. If you need an emergency gift or card, call one of the Boutique members listed on our "Boutique" webpage.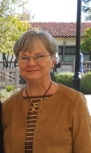 2017 ARTS & CRAFTS ASSOCIATION OFFICERS AND COMMITTEES
EXECUTIVE COMMITTEE
President Monita Bowman
First Vice President Michael Sunzeri
Second Vice President Mary Wollesen
Secretary Claudia Welch
Treasurer Linda Planting
Past President Shanah Cole
ADVISORY BOARD = COMMITTEE CHAIRS & EVENT DIRECTORS
Art Films: ________________________
Bingo: Betty Stednitz
Ceramics: Diane Finley
Events Coordinator/Director: Diane Finley
Exhibits Coordinator/Director: ____________________
Excursions: Karen Honaker
Programs Coodinators: Sunni Gibbons & Colleen Mirassou
Class/Workshop Scheduler: Barbara Gottesman
Communications Coordinator: Ciel Duke

UPCOMING:
July 14: Contracts due to Monita Bowman for Home Studios Art Tour
July 22: The Art of Journaling with Wendy Fitzgerald
July 30: Contracts due to Michael Sunzerit for Annual Members Juried Art Show
August 3 & 4: Annual Members Juried Art Show
August 3: In Take Day for AMJAS. No afternoon watercolor class.
August 4: Reception for AMJAS at 1:30 pm in Cribari Conference Room
August 12: Interactive Free Demo of Pastels - Dabblers' Delight - with Sandy Jones 11 am - 12:30 pm. 10 only.
August 15 and 22: GlassFusing Jewelry Making with Carol Norden: 2 part class
August 26: Home Studio Art Tour
September 18: Block Art Display at Wine & Cheese Reception for New Members.
Blocks available now in Art Room $1 each
Look for: another 2 classes with Carol in wire-wrapped pendants
A beginners' watercolor class with Ciel Duke when she returns from Nova Scotia
July 22: The Art of Journaling with Wendy Fitzgerald
August 12: Free Interactive Pastels Demonstration with Sandra Jones. All materials are furnished by the instructor and Barbara.