The Villages Arts & Crafts Association
MISSION
The Villages Arts & Crafts Association was founded 48 years ago to provide a creative outlet to artists and crafters who live in The Villages, an active senior community, in the beautiful hills of east San Jose.
The aims of the Association shall be to encourage and foster the hands-on visual arts such as painting in oil, acrylic, watercolor, pastels and encaustic, collage, ceramics, assemblage, photography, sculpture, jewelry, knitting and stitchery and other crafts and arts by classes and workshops and free demonstrations and programs for Villagers who reside in this community and to provide events and creative outlets, such as exhibits, festivals and special events.
Our vision is that within a decade The Villages would feature the amenities of an arts and crafts colony as an enticement (in addition to golf and tennis) for seniors to make The Villages their home.
If you want any information about Arts & Crafts, please contact 2018 President Monita Bowman at 408-440-8591 or monita.bowman@gmail.com We always need volunteers to serve as committee members with small jobs, so call Monita if you are willing to help our art club in any way.
We provide classes, workshops, quarterly exhibits in Cribari Center, a monthly Art Film and annual events such as the December Members Annual Juried Show, the April Art in the Park, the June Sidewalk Art Show, the August Home Studios Art Tour and the November Holiday Faire. Membership is open to all Villagers, artists, crafters and all Villagers who support arts and crafts, with annual dues of $10 per year. Donations may also be received by Arts & Crafts since we are a 501c3, a non-profit charitable trust, listed by the California Attorney General's Office. This status allows us to sponsor Bingo for Villagers. At the present time, the person who was in charge of Bingo, Betty Stednitz, has become ill and will no longer be able to be in charge. The Community Activities Office and Arts & Crafts are actively searching for a new volunteer to direct Bingo.
A monthly general meeting and guest artist demonstration is held on the first Monday of each month in Cribari Conference Room at 1:45 pm. Entries for Artist of the Month are encouraged except for May and June this year. No demos are held in January, July, August, September or December.
To register for an art class advertised in The Villager or by flyer on Cribari bulletin boards, e mail Barb at barb.gottesman@gmail.com or email Judy at judywessler@gmail.com by the deadline indicated. Contact either Barb or Judy if you want additional information or go to the instructor's page on our website.
GIVING BACK TO THE COMMUNITY
Last year during 2017, Arts & Crafts donated ALL of its profits from Art in the Park and Holiday Faire to the VMA. We made approximately $800 overage from each event. Instead of banking it for up front money for next year's event or spending it on much needed art and ceramics room equipment which are used by all Villagers, we added $200 from our treasury to make the check rounded out to $1,000 to the VMA.
Over the last ten years, Arts & Crafts has given back to the community to VMA, Meals on Wheels and other organizations. Each year the Advisory Board must vote on where to direct our charitable giving. Obviously some of our event profits must go to producing the event next year, to buy equipment for the Art Room and the Ceramics Room, and for operating expenses. In 2011 we published and sold cookbooks and donated the profits to the VMA. In other years, some profits from the Holiday Faire Bake Sale have been donated to the VMA. In some years, the Advisory Board has voted to share our event profits with charitable organizations while rolling over some profits to fund the event next year. We have also given to Meals on Wheels for those Villagers who receive meals on wheels.
Between 2007 and 2017, Arts and Crafts has donated $17,583.22 to VMA and other Villages charities.
Rules for "Artist of the Month"
At the May 7 meeting, we are soliciting NO entries for Artist of the Month. Instead we are voting for that title from among the paintings hung on the "clock side" of the Conference Room (white voting ballots.) We will also vote for the Artist of the Month for June from among the paintings on the "fireplace side" (green voting ballots). Names of the artist will be covered during the voting.
1. Members are invited to enter paintings or other 2 D works of art, such as stitchery or quilts. 3 D works of art, such as ceramics, sculpture, jewelry or assemblage are also welcome.
2. Paintings must be framed and on an easel. Signature on the painting must be covered.
3. Works of art must be done recently by the artist, within the last 3 years.
4. Entries must be registered with Ruth Keiser by 1:15 pm on the day of the monthly Arts & Crafts meeting.
5. Voting begins at 1:30 pm.
OPEN STUDIO in the Art Room
Mondays: 10 am - 12 noon
Wednesdays: 10 am - 12 noon
Fridays: 9:30 am - 12 noon
All are welcome to paint with us and request peer critiques!
OPEN STUDIO in the Ceramics Room
Mondays: 1 - 5 pm
Tuesdays: 1 - 5 pm
Thursdays: 2 - 5 pm
Fridays: 1 - 5 pm
You are welcome to use the supervised Ceramics Room at these times if you have taken a class or been trained on equipment by Diane Finley.
VOTE ON BY LAWS REVISION
The 2018 By Laws revision of the By Laws was approved by the Advisory Board on April 30 and at the May 7 meeting by Arts & Crafts members by unanimous vote by show of hands.
The quorum for conducting business on May 7 was set at 10% of the current membership (10% of 225 = 23 members present). Number of members present at the May 7 meeting was 27.
Members were publicly notified of the meeting to vote on the Revised By Laws by website posting on April 28, direct e mail on April 30 and by an article in The Villager on May 3. Copies of the Revised By Laws were posted on the website on April 30 and sent by direct e mail to all members on April 30. Hard copies were available at the May 7 meeting.
President Monita Bowman will forward our 2018 Revised By Laws to Villages Board President Debbie Champion for the Villages Board of Directors to approve.
SIDEWALK ART SALE ON SATURDAY, JUNE 2, 2018 from 8 am until 12 noon
in CRIBARI AUDITORIUM.
We were sad to learn that the Hi-12 Club will not have a Pancake Breakfast this year on June 2 because of various factors, but we are glad to see that they will be back in business on June 1.2019.
However, our event - the 12th annual Sidewalk Art Sale - will still take place on June 2; but all the vendors will be inside the Cribari Auditorium.  Community Activities Office will furnish tables and chairs for every vendor.  We will offer additional spaces for new vendors.
The Saturday Sing Along group will move inside to the Cribari Lobby to provide entertainment.
We have added some features to our event:  Painting Exhibits in the Conference Room where some paintings by advanced artists will be for sale.  We will open the Patio Room for the Exhibit of Beginning Artists' paintings, just in case you missed the Exhibit and Reception on May 7.
Jim Beyer and the Library Group will have tables in the Conference Room to display their First Saturday Book Sale..
Both the Ceramics Room and the Art Room will have an Open House for visitors to see the work we do and talk about classes.  The Art Room will have a "Create Your Own Art"  section for children and adults.
Next Event sponsored by Arts & Crafts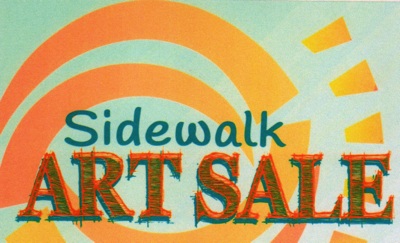 "Sidewalk" Art Sale CRIBARI INSIDE
Saturday, June 2, 9 1m - 12 noon
16 vendors in Cribari Auditorium
14 artists' paintings on display in Conference Room
25 paintings by Beginning Artists in Patio Room
OPEN HOUSE in Ceramics Room
OPEN HOUSE in Art Room with "Children's Art Table"