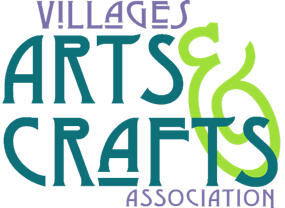 The Arts & Crafts Association is a Board-recognized club at The Villages (website www.thevillagesgcc.com) . Membership and events are for The Villages Golf and Country Club residents and their guests.
UPCOMING EVENTS
February 18: Third Tuesday Free Art Night for all Villagers!
Decorating Mardi Gras masks
March 2: Regular Monthly Meeting of Arts and Crafts in Cribari Conference Room.
Guest Artist demonstration Nancy Takaichi, Plein Aire Painting
Artist of the Month, 1:15 pm. Register with Michael Sunzeri.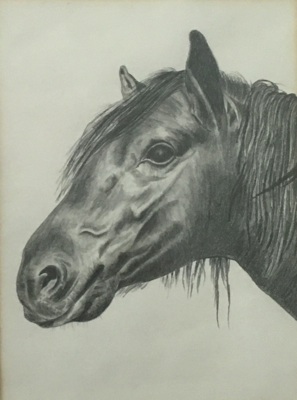 Paard
Pencil Drawing by Olga de la Serna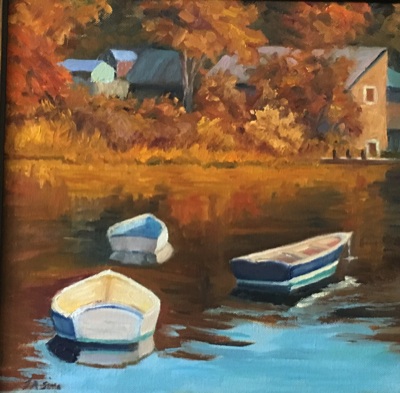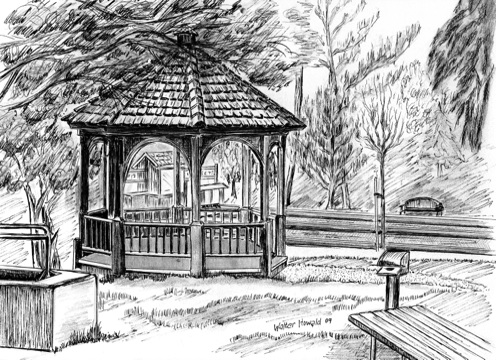 Gazebo
Pen and ink by Walter Howald
Artist Nancy Takaichi Demonstration
The Arts and Crafts Association is pleased to announce an artist demonstration by Nancy Takaichi on Monday, March 2nd, 2020 in conjunction with our monthly general meeting. This demonstration is free and open to all Villagers. The brief meeting begins at 1:45 pm, with Ms. Takaichi's one hour demonstration immediately following. It will be held in the Cribari Center Conference Room.
Nancy Takaichi had a successful 30-year career in high tech as corporate events planner, marketing communications, and newsletter editor before returning to painting in 2012. She will speak on Plein Air painting, which is her passion. She has won may prestigious awards, including the 2017 "Grand Jury Winner" Plein Air Competition for Santa Clara County Parks and Recreation, the 2017 and 2016 "Best of Show" North Tahoe Arts Plein Air Open, and the 2018 "Best of Show" Los Gatos Art Association Members Juried Show. Do you want to find out what Plein Air painting is, or perhaps how to get started on your own outdoor painting journey? Please join us for what is certain to be an interesting and informative artist demonstration.
Anyone wishing to enter the Artist of the Month contest should arrive no later than 1:15 pm. Register with Michael Sunzeri. Voting begins at 1:30 pm.
by Monita Bowman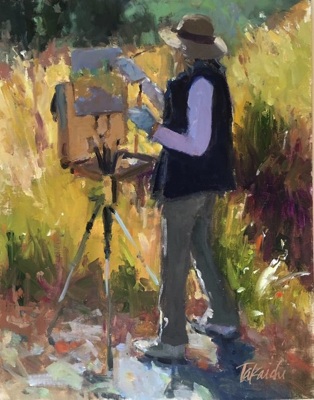 Nancy Takaichi will demonstrate for Arts & Crafts on March 2.
Fishing Camp
Oil by Linda Raye Sims