The Villages Arts & Crafts Association
A Villages Board-Recognized Club for artists, crafters
and those who support keeping art alive in The Villages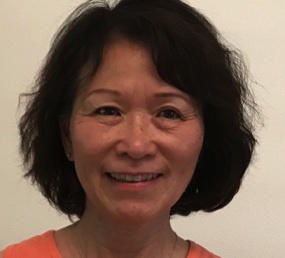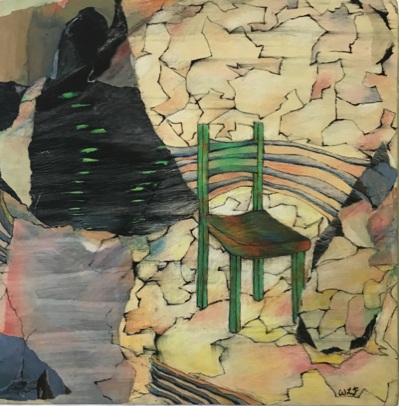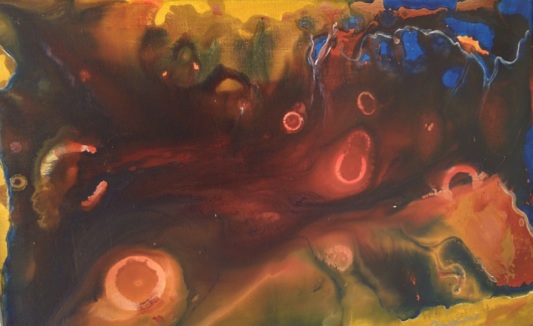 The Standout by Wendy Fitzgerald
Mixed Media: Acrylic, collage, colored pencil, ball point pen.
Painting photo published with the permission of the artist.
This is a portrait of someone who is a standout and has the special quality to overcome obstacles in life. Figuratively speaking, the chairs in this exhibit are personalifications of people.
Hawking's Universe by Michael Sunzeri
Acrylic
Photo of the painting published with the permission of the artist.
Homage to Hawking, using Paul Jenkins' painting style.
Paired Exhibit Opening August 3 in Cribari Conference Room:
Wendy Fitzgerald and Michael Sunzeri
Wendy lives in Verano Village and enjoyed her career as a Software Programmer.
Although we can no longer post prices of paintings at our exhibits, if you are interested in a pianting in this exhibit, call Wendy or Michael or the Arts & Crafts Exhibits Coordinator Barb Gottesman.
Michael's price list:
1. Banded 24x30 Acrylic $159
2. Pear Impaled 20x24 Acrylic $159.
3. Every Cloud 20x24 Enamel $129.
4. Hawking's Universe 24x36 Acrylic $149.
5. Speas Desert Lake 24x25 Acrylic $169.
6. The Resort of Vide Farthing 24x36 Acrylic Not for Sale
Wendy's Price List:
7. Sanctum 11x11 Mixed media $250.
8. Land and Sea 15x23 Mixed media $350
9. The In Crowd 12x12 Mixed media $250.
10. The Standout 12x12 Mixed media $250.
11. Reflections 12x12 Mixed media $250.
12. Survivor 12x12 Mixed media $250.
Michael lives in Montgomery Village and spent his other career as a Electronis Circuit Board Designer.