Writing Your Memories
for
Family and Friends
A New Class
With Claudia Welch and Barbara Gottesman
Thursdays, May 11 – June 1,
at 1:30 – 3:00 pm in the Cribari Center Art Room. $35.
Register at barb.gottesman@gmail.com
Feedback and Peer Critique Sessions on Thursdays, June 8, June 15 and June 22 at 3:30 pm - 5 pm.
Join them for a fun class in writing brief stories for birthday gifts which will be cherished! They will teach writing skills in an easy way which will have you eager to write more! Reading your stories aloud will also help to refine them.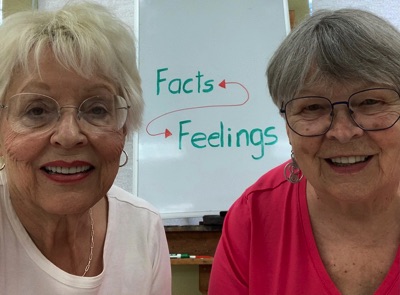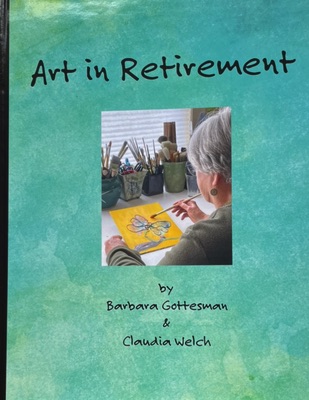 Writing and Sharing Stories
Oh my goodness, what a colorful bunch!
When I signed up for class, I had nary a hunch
That I'd be meeting new friends with a penchant to write,
Each with stories full of humor and might!
We each dutifully sat in our unassigned seat
And continued in said spots each time we would meet.
For me that's a round table, though squarish in form,
Which gave a visual picture of our weekly class norm.
Shirle first shared that she had cancer beat
And wrote of Sundays with Dad and their bagel-lox treat.
Later we learned that as a child she was shy
And a stage was the place where her comfort would lie.
Midge is a force, no surprise to us all,
With delicious cake- baking layers and story of each doll.
I hope each treasure with its hand molded face,
Will one day find a nice museum its place.
Marg, a World War II and The Great Depression days kid,
Makes graham cracker cakes & shares tales of things that she did.
She rode a train to Ohio & had her first sight of snow,
And her adventures with books started to grow.
Manoli, ah Manoli, our dear friend from Spain,
Your first writing and reading caused you some pain.
You seemed at a loss for the most proper prose,
But you cried and you laughed with the stories you chose.
We've learned bits of your farm life,
A "special view" of fried egg with bread.
We've enjoyed getting to know you and
Sharing laughs about the life you have led.
From RaeMay we heard about life in TaiWan -
Compound-type housing where huge family meals would spawn.
Being the dutiful daughter, you imitated your mother,
And put up with the antics of your naughty young brother.
Peg, your memories of that first day of school
And Dad's ice cream sundaes, so delicious and cool...
Your description of a treasure box and your jewelry drawer,
Captured my interest and I'm yearning for more!
Shirley, a wealth of history right here by my side,
Internment camp stories and Monopoly games you would hide!
You described your delicious hamburger treat,
How it tickled your taste, with all the rice you did eat!
Barbara and Claudia, our writing gurus,
helped us look back and find memories to choose,
Which tell our life stories that we hope not to lose.
Your advice to use dialogue and recall our best senses,
Helped broaden "the view" as our story commences.
I'll recall Claudia's paper search Saga & Barb's "fingernail fairy",
But, mostly, it's the ambiance of this class I'll still carry.
We learned that we've all had some hardship and strife.
Those stories are what brings a shared thread to our life.
Thank you and I hope to cross paths many times,
Cynthia (Cynie) Jackson June 2023